If you've ever wanted to download a video from an embedded video site like Youtube you may want to check out
Vixy.net
which will let you convert and download the video online with no software to install.
You'll be able to select a variety of output options including Divx (avi video and MP3 audio), Mov (MPEG4 video and MP3 audio) for Macs, MP4 for Ipod (MPEG4 video and AAC audio), 3GP for cellphones (MPEG4 video and AAC audio) and Mp3 audio only.
From my tests you can also download videos directly from devices like PDA's that have active wi-fi connections as long as your browser supports Javascript.
Unlike other more complicated services like Zamzar.com which requires you to provide your e-mail address to receive a link to find the completed video or keepvid.com that only downloads the embedded .flv video to your PC requiring you to convert it to a more common format like .avi or .mp4 with a program installed on your computer
Vixy.net
has proved to be a simple solution to grab all those obscure videos floating around online video sharing sites.
Just insert the video url in the field highlighted below, choose your download format and then click start for the site to convert your video. After a minute or two of conversion, depending on video size, a download window for your browser will pop up and enable you to save the video to your PC in a format that will play in most of todays common computer devices.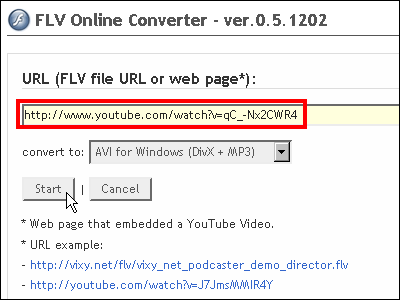 For it's ease of use and quality of output file
Vixy.net
is The Naked Gord Program's link of the week.